Skiing
Hotel Krakonoš *** is located above Mariánské Lázně, making it ideal for practicing winter sports. The area for downhill skiers and cross-country trails are excellently accessible.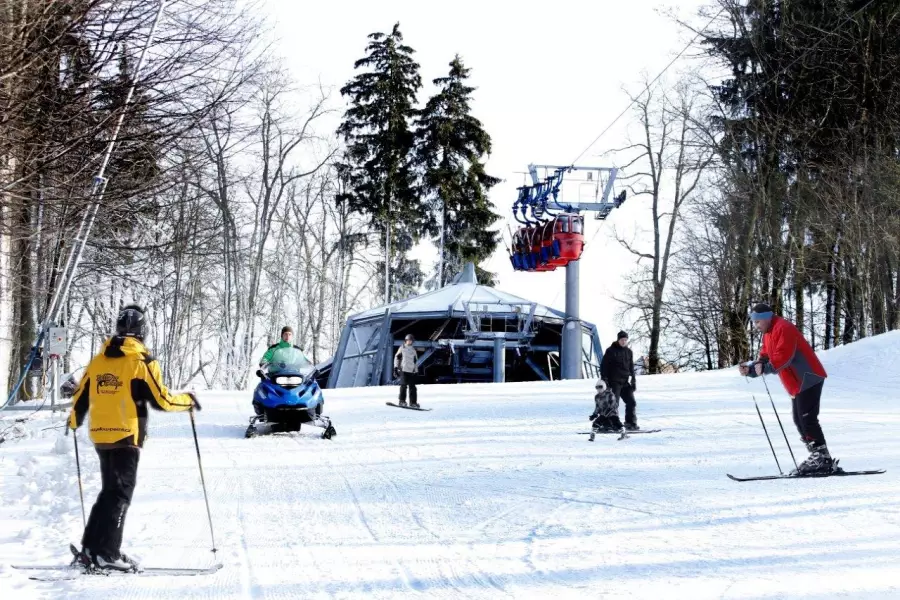 Downhill skiing - area only 100 meters from the hotel
The modern ski area was opened in December 2004. Skiers have at their disposal a downhill track next to the cable car and a lighted and sounded slalom slope. An indisputable advantage is the artificial snow covering of the entire area and its northern orientation. The slope is groomed daily with modern technology and also offers excellent possibilities for evening skiing. The location of the complex on the edge of the spa center with beautiful views of Mariánské Lázně is unique.
Parameters
altitude: 650 - 750 m.a.s.l.
number of downhill tracks: 2
number of lifts: 3
transport capacity: 2400 persons/h
artificial snow: in the entire area
services: refreshments, toilet, ski service, ski equipment rental, first aid, ski bus
Opening hours
daily skiing 9.00 - 16.00
evening skiing 18.00 - 21.00 (slalom slope)
You can find more information on the ski area's website.
Running tracks
The protected landscape area Slavkovský les offers ideal conditions for cross-country skiing. This is mainly due to the slightly undulating terrain of the plateau and its relatively high altitude (750-900 m.a.s.l.), which positively affects the amount of snow. Modern technology is available for creating running tracks. All routes are freely accessible.
Area of ​​the golf course
It offers the densest network of machined tracks. The length of the standard circuit is approximately 2.3 km Tracks for both classical and skating techniques. Ideal for sports skiers and families with children.
Marked routes
Routes connected to the golf course area. Machine-modified tracks mainly for classical technique.
Other routes
Primarily cross-country trails copying hiking trails in the wider area of ​​Mariánské Lázně. The track is mostly created by other skiers. Ideal for winter ski touring.
Tip: Use the cable car and the connecting running trail (approx. 1km) to get to the golf course area. There is no need to worry about a car or the need to follow bus timetables. One-way fare 35 CZK, return fare 50 CZK.