You are here:
Procedures
All procedures are performed by professionally trained doctors and rehabilitation workers.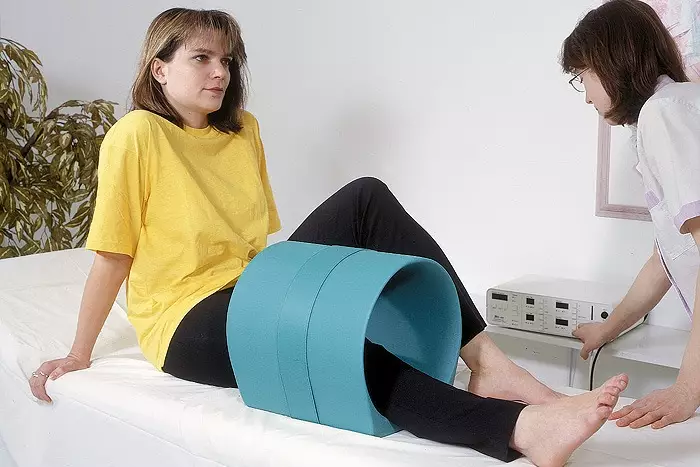 The opening hours of the spa are 7:00 a.m. - 3:30 p.m.
Gas injections
For subcutaneous application, we use natural gas that passes through special filters. The application is performed by a nurse, doses of 20-50 ml per 1 injection. The maximum is 200 ml per 1 session. Frequency 3 times a week. The injection site and the surrounding area will be "swollen" for about 1 hour, you will feel a crack when palpated. It is a gradual absorption. Rest is not necessary, on the contrary, movement speeds up absorption. We generally use disposable hypodermic needles.
Gas carbonic baths
We use carbon dioxide for gas envelopes. Gas absorption also occurs through clothing. Duration 20 min. Each patient will purchase their own bag at the reception, which will be labeled with their name. We recommend lying still. After finishing 20 min. Relax.
Inhalation
The basis for inhalation is Karolin spring + ingredients according to the doctor's prescription. Duration 10 min. 1x a day. When inhaling, breathe evenly, not too deeply, irritation occurs.
Underwater massage
It belongs to the most effective type of massage using a water jet under atmospheric pressure of 0.5 - 2 atm. Duration 20 min. Lie down in a special bath so that the body is relaxed. The massage must not be painful, if so, notify the nurse and attending physician.
Electrotherapy
We use magnetotherapy. The application time is according to the doctor's office, the intensity is governed by the individual sensitivity of the patient.
Other procedures
pearl baths
massages-classic, sports, flat massages
massage with lava stones
aroma massage
dry water massage
magnetotherapy
inhalation
peat tiles
individual and group therapeutic exercise
lymphoven - against cellulite
manicure, pedicure cosmetics as an additional program
paraffin
infrared sauna
full body wraps with various ingredients / e.g. dead Sea/
Price list of procedures
The price list is valid from January 1, 2023
Classic massage - partial
20 min
700 Kč
Classic massage - total
40 min
1.250 Kč
Aroma massage
20 min
710 Kč
Chocolate massage
20 min
710 Kč
Massage with sea buckthorn oil
20 min
710 Kč
Reflex foot massage
45 min
1.050 Kč
Massage with lava stones
45 min
1.050 Kč
Dry water massage
25 min
600 Kč
Dry water massage + seaweed wrap
800 Kč
Underwater massage
20 min
650 Kč
Lymphoven
30 min
380 Kč
Lymphoven with additive
30 min
450 Kč
Pearl bath
20 min
490 Kč
Pearl bath with additive
590 Kč
Additive for bubble bath
100 Kč
Peat wrap
20 min
510 Kč
Paraffin hand wrap
20 min
430 Kč
Dead Sea Wrap (Partial)
590 Kč
Dead Sea Wrap (Total)
710 Kč
Total wrap with ingredient
710 Kč
Infrared sauna
30 min
270 Kč
Infrared sauna
60 min
410 Kč
Dry carbonic bath
20 min
510 Kč
Dry carbon bath bag
54 Kč
Gas injection
320 Kč
Magnetotherapy
20 min
290 Kč
Inhalation
10 min
210 Kč
Exercising in water
30 min
370 Kč
Bio care - Garra Rufa fish
30 min
550 Kč
Entrance medical examination
390 Kč
Medical consultation
300 Kč
Salt Cave
60 min
160 Kč
Oxygen therapy
30 min
460 Kč
The price list is valid from January 1, 2023