Educational trail Smraďoch
These are accessible parts of the nature reserve of the same name (forest upland peatland). The trail has been in operation since July 1976.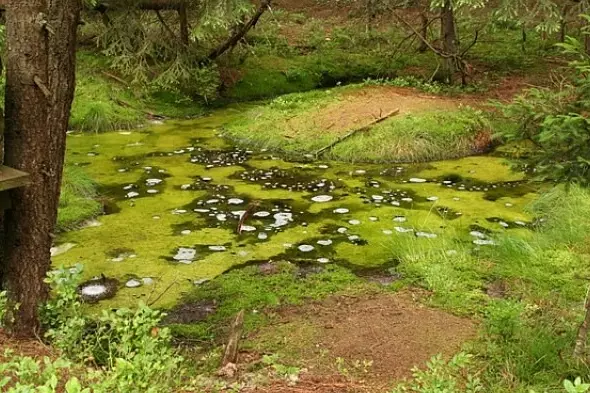 5.4 km from Mariánské Lázně, entrance from the roadside parking lot (160 meters behind the forest restaurant Nimrod). Accessibility by road from Mariánské Lázně (towards Prameny), or by marked hiking trails (blue, red sign). Access from the parking lot via a forest path (67 m), own entrance to the educational trail and the entire route on a raised wooden footbridge. The total length of the educational trail itself is 76 meters. There are two lookout platforms on the route (view of Moffetý štít - mud volcanoes and the gas spring in the Green Lake).
The entrance panel is made up of two parts - the visiting regulations of the protected landscape area and the tourist time map of the surroundings with the marking of other available points of interest. At the end of the trail on the viewing platform, there is an information panel (how mineral springs and mofets are formed, information about the nature reserve Smraďoch). The name Smraďoch is absolutely justified. In addition to carbon dioxide, a small amount of hydrogen sulfide also springs up here. However, it is absolutely enough to make the whole area smell like rotten eggs. The path is also adapted for the physically challenged.
Walking along the trail and the accessibility of the site do not require special equipment and are not physically demanding. Only when walking from Mariánské Lázně do you need normal outdoor clothing and the route itself is slightly demanding. The texts on the educational trail are in Czech, English and German.
The Farská kyselka mineral water spring is freely accessible nearby.
Learning trail parameters
length 75 m
tour time 20 minutes
2 stops
public transport: Mariánské Lázně (about 6 km from the city centre).
Hiking trails
from Mariánské Lázně following the red sign around the Teplá spring
from Mariánské Lázně following the blue sign
Cycle route
Marianskolazaňský circuit VI