Educational trail Komorní hůrka
Komorná Hůrka is our youngest volcano - it was active 850,000 years ago, there was even an opinion that it ended its activity only 350,000 years ago.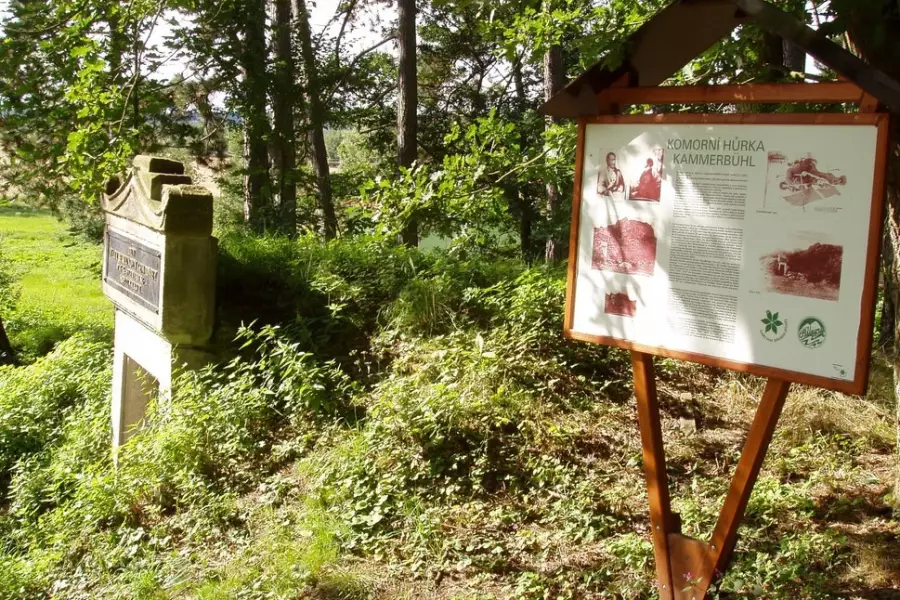 It is not in any way conspicuous for its glory - it is a low, partially wooded hill between Cheb and Františkovy lázně. A striking crater-like formation that we find on it. however, it is not the original crater, but an old quarry.
She was probably never very wild. Just modest - some blowing of ash here and there, one eruption of lava and that's it. It is not surprising - it was created only in the last, final phase of volcanic activity in our territory. He also has his sister - almost a twin - nearby Železná hůrka. Iron perhaps because a mineralogical rarity was found on both of our youngest volcanoes - slices of natural pure iron. Currently, the nature trail on Komorní Hůrka is destroyed. In the case of Komorní hůrka, the educational trail led along tourist signs. Take it easy on your way - you can't miss the main quarry and from there you can walk safely to the Šternberk Tunnel following the usual tourist signs.
Learning trail parameters (destroyed today)
start Komorní Dvůr, end there
length 1 km
moderately demanding route
5 stops
viewing time approx. 1 hour
the trail is intended for pedestrians (data from OÚ Cheb)